Ruska dihalna "telovadba" z Manco Izmajlovo
Dihanje je edina avtonomna življenjska funkcija, ki jo lahko tudi nadzorujemo. To pomeni, da jo upravlja telo, vendar lahko z zavestjo spremenimo način, kako dihamo. Dihalnih vzorcev, ki jih imamo, se običajno niti ne zavedamo. Starodavni jogiji so bili prepričani, da imamo v življenju omejeno količino vdihov. Če je tako, zakaj ne bi dihali počasneje in globlje in si podaljšali življenje. Z Manco Izmajlovo smo na nekaj tedenskih delavnicah usvojili ruske dihalne tehnike in tako z dihanjem dvigovali tudi nivo naše energije.
Naš dih je kazalec našega razpoloženja in naše razpoloženje je kazalec našega diha. To pomeni, da če spremenimo način dihanja, se spremeni naše razpoloženje. In obratno, če se spremeni naše razpoloženje, se spremeni dih. V času pandemije koronavirusa in strogih ukrepov je dihanje še kako pomembno. Nihče ne ve, kako dolgo bodo veljali strogi ukrepi, a za svoje zdravje in dobrobit lahko največ naredimo sami.
Četudi ponovno delamo od doma, se s sodelavci pogovarjamo in delimo uporabne članke o organizaciji dela od doma, spodbujamo k ohranjanju stikov in neformalne komunikacije med sodelavci, vabimo pa tudi k virtualni vadbi in drugim izzivom za ohranjanje kontakta in fizične kondicije.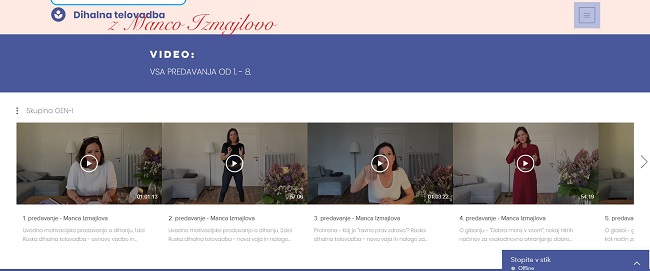 Ena takšnih vadb, ki je potekala virtualno, je bila tudi delavnica ruske dihalne telovadbe z Manco Izmajlovo. V šestih zaporednih delavnicah smo se (na)učili krepiti miselni fokus, dvigovali nivo/raven energije, krepili zdravje in odpornost. V Rusiji je namreč ta dihalna tehnika sestavni del uradne medicine, saj ima izjemen učinek na delovanje imunskega sistema, spanca in procese regeneracije telesa, preprečuje pa tudi težave z dihali. Prinaša znatno izboljšanje vzdušja v poslovni kolektiv in ima izjemen učinek na počutje, fokus in delovno sposobnost, izboljša tudi sposobnost javnega govora, izražanja idej, pozitivnega pogleda na stvari.  
Manca se je na vsakem od srečanj poleg izvajanja vaj dotaknila tem, ki predstavljajo pomembne gradnike za ohranjanje fizičnega in psihičnega zdravja kot so prehrana, gibanje, odnos do dela in kariere, samozavest, samodisciplina, itn.  
Naučili smo se, da je pravilno dihanje življenjskega pomena za vsakogar. Cilj vadb je bil, da ponovno vzpostavimo naravno refleksno dihanje, in da znatno izboljšamo naše psihofizično počutje. Takšnega kot se ga morda spomnimo iz otroštva.