Social afternoons at GEN-I
At GEN-I, the colleagues from various fields connect and socialise, as we believe good relations contribute a great deal to better business performance. Socialising in the afternoons is important to us in order to get to know each other and connect in a somewhat more relaxed environment which allows us to build top-notch teams that cooperate perfectly. Thus, we also make our afternoons more interesting by organising a pub quiz.
The pub quiz takes place on our premises in a large open office where we feel our best. We are divided into random teams competing against each other in answering questions from ten different categories – knowing GEN-I, geography, history, sport, philosophy, science, gastronomy and more. When we get down to thinking, we do pretty well in answering those questions and we get surprised by the ones that make us reassess our thinking and fill in the gaps in our knowledge.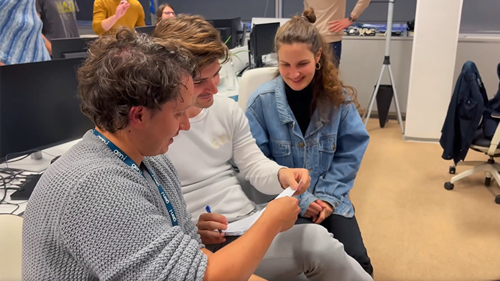 A healthy dose of competitiveness undoubtedly encourages our thirst for curiosity and for upgrading our general knowledge as each new piece of information might sooner or later come in handy in what we do. After all, the event aims at meeting our colleagues outside the GEN-I projects, networking between different departments and making it a pleasure for us to get back to such social events.