The mountaineering section of the GEN-I Sports Club is growing in cohesion and good spirits
The GEN-I Sports Club offers a wide range of sports and training, from teams to individuals.
Among the many activities, the mountaineering/hiking section experienced a renaissance in 2021. Three group hikes were organized in 2021. The first GEN-I hike took place in the Kamnik-Savinja Alps. The second hike was planned for Veliki vrh on the Košuta ridge, but it snowed a few days before the departure, so they visited Kofe, Šijo and Pungrat. The third hike took them across the border for the first time to Kvarner in Croatia. The destination was Učka. Or rather its highest peak, Vojak.
Participants socialize and connect with each other while discovering the beauty of Slovenia and beyond in a sporting spirit.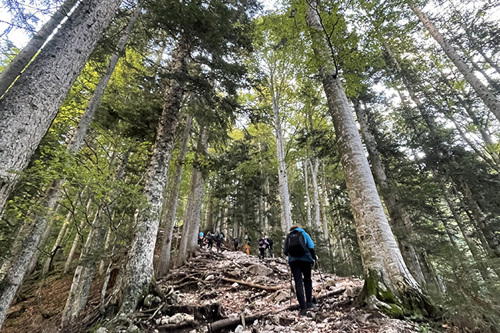 Jurij: "It's great because I don't have many hikers in the rest of my social circles and then I don't have company for the mountains. However, GEN-I is big enough that there are quite a few hiking enthusiasts."
Žan: "We have hit the nail on the head with the hiking section, which offers a great opportunity to socialize and spend active time outdoors. And the excellent organization is the icing on the cake."
Majda: "Slovenia is a beautiful country, full of natural wonders that cry out to be explored. One of my favourite ways of discovering its remote corners is mountaineering, so I was delighted when the GEN-I Sports Club set up a mountaineering section. During our mountaineering challenge, even though it was the first time we had climbed together, there was great energy in the group that ran through the whole gathering. At the top of the Kalška ridge, we proudly wore GEN-I T-shirts with the eloquent slogan 'We never run out of energy', unfurled the GEN-I banner, and posed for photographers. The first two thousand-footers were symbolically baptized as mountaineers. Other climbers admired our unity and good mood."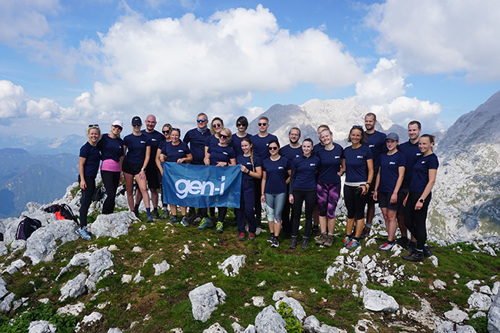 Spring is here, temperatures are rising and soon summer will be knocking on the door, which is also the best time for mountaineering. The GEN-I mountaineering/hiking section is already grinding its heels and making plans for the 2022 season.