Yoga for a great start to the day
Twice a week, members of our Sports Club wake up to a workout that gives them energy for the working day.
Among the almost 20 sections of the GEN-I Sports Club is the Yoga and Pilates section, where employees can attend classes from two Ljubljana studios, Peti element and Nataraja, where they can choose between Ashtanga or Vinyasa yoga, and for those who want to explore the lesser-known types, there's also Chakra Flow Yoga, Forest Inspired Yoga and even Yoga for mothers and babies. 
Twice a week, our staff wake up to an excellent certified yoga instructor, Kim Majoranc, who offers an easy-paced workout on Tuesdays and a more challenging workout on Wednesdays. The workout is a combination of yoga, Pilates and exercises designed to reduce stress, improve posture, strengthen internal muscles and improve overall physical well-being.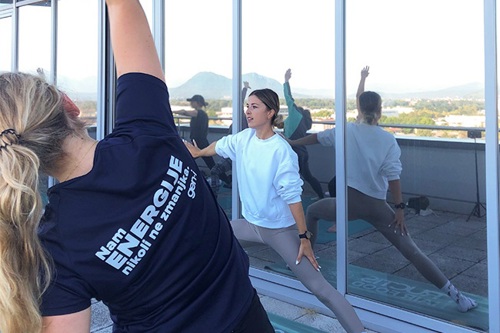 We also record the yoga sessions, and the recordings are available later for those who don't like the morning session or for those who want to repeat the session more than once. 
"I took up yoga, to be honest, more so because of the limited opportunities to practise it in the general lockdown situation of the time, and with a good deal of scepticism and other doubts as to whether or not yoga really deserved the status of a real sport. After the first meeting, my doubts were dispelled. Kim's positive energy is infectious, and the sore muscles after class are proof that it's not as easy as I thought. Yoga now has a permanent place in my weekly calendar of activities."- Minka 
"I am very happy that the GEN-I Sports Club offers yoga, I have always wanted to try it and have found it to be the right workout for me. Doing yoga before work is not only a great way to start the day, but it is also very good for my concentration and my back, which sometimes causes me problems. If I can't go to the class, I 'work out' when I have time, and it's also great if you want to work from home as you can quickly forget about your workout." - Špela 
"Yoga definitely helps with my flexibility. Since I've been doing yoga, I've also noticed improvements in my swimming results and technique."- Matej 
"I really look forward to every Reformer class! Reformer Pilates allows you to focus on specific parts of the body and at the same time makes sure that every muscle is activated, even the ones you didn't know existed."- Žana
The Yoga and Pilates section, like all the others, is open to all our employees who are members of the GEN-I Sports Club and who are interested in mat exercises (Yoga and Pilates) or spring exercises (Reformer, Gyrotonic). All our activities are free for members and are included in the symbolic annual membership fee. Active members will also receive a nice and useful gift - a yoga mat - before the sessions start.