Analytics represent the backbone of GEN-I, as it has been clear for some time that there is value hidden in data that enables us to make better decisions. The greatest value of analytics is the ability to turn data into information that can be transformed into decisions and action. The work of analysts is dynamic, with the tempo dictated by the market, while analysts use advanced tools that require a specific way of thinking. Analysts are known for recognizing difficult problems as an opportunity for further advancement.
Data-driven decisions represent the core of digitalization and the automation of our business processes. Diverse techniques, advanced algorithms, and supervised and unsupervised machine learning models best describe our advanced analytics teams.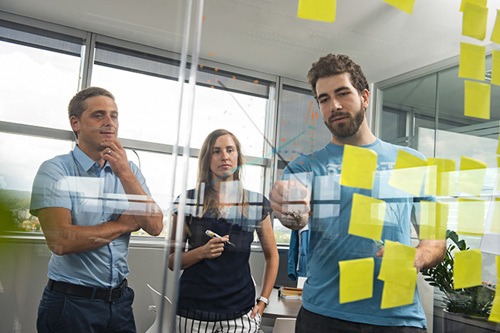 Projects
Our analysts develop solutions that contribute to the improvement of both internal and external projects. Recent internal projects include a model for determining water flow rates from satellite images, for which we were awarded a silver medal for innovation by the Chamber of Commerce and Industry of Slovenia. To facilitate the planning of energy purchases, we answer the question of whether Europe will have enough natural gas during the winter, while we are working with external partners to develop the Slovenian electricity grid until 2050.
To that end, we use the most advanced technologies (Python, SQL, GIT, AWS cloud, PBI, .NET and others) to achieve our desired goal.
Profiles
Our analytical teams comprise a diverse range of technical, scientific and social science profiles. Electrical engineers, mathematicians and physicists make up the core, but economists, social scientists, computer experts and others are also welcome.
Not sure which analyst position is best for you? Read the descriptions below:
Data bengineers are responsible for the preparation of data for further analysis. This includes the purging, transformation and joining of different data in one place. For this purpose, data engineers set up data flows (ETL/ELT), develop a data warehouse (DWH), occasionally move something to the cloud, and frequently write effective SQL queries or draw up reports for end-users.
Market analysts analyze events that affect the European energy market and are in daily contact with decision makers. Market analysts work in the retail and trading sectors, and use analyses in an attempt to understand the market and forecast future price trends on all energy markets (electricity, natural gas, coal, oil and European Union Allowances (EUA)). They monitor a range of different data, from weather data in a specific European country to data regarding shipments of liquified gas from Asia to Europe.
Service and product development analysts develop models for the valuation of the products and services that are and will be used by our customers. They work closely with the sales team, and ensure that proposed solutions are tailored to the wishes and requirements of customers to the greatest extent possible. Their work also includes the preparation of analyses that serve as the basis for business decisions.
Quantitative analysts develop and maintain mathematical models that describe developments on the energy markets. To that end, they work closely with market analysts and help them interpret the results of those models.
Data scientists offer support for business decisions using statistical analysis, the development of forecasting models, the advanced visualization of data and the interpretation of results. They search for anomalies in data and study them proactively. They have mastered programming and GIT.
The energy sector is on the brink of major changes. We are moving into an era of big data and demand management algorithms. Energy trading will be supported by robotics and will become increasingly automated. All of this is also linked to our green future.
Would you like to know how artificial intelligence will improve our efficiency in the future, and are you ready to enter the world of data science and its applications at GEN-I?
Check out our vacant jobs and join our team of analysts.