The energy sector is at a major crossroad, making innovation more important than ever. Due to calls for decarbonization on the one hand, while on the other hand, digitalization and other players are knocking on the door of this well-established sector. Due to the rapid and unpredictable changes linked to our activities, we take an agile approach, where the focus of development is on the needs of the customer.
GEN-I is taking decisive and confident steps towards the green transformation and digitalization of the energy sector.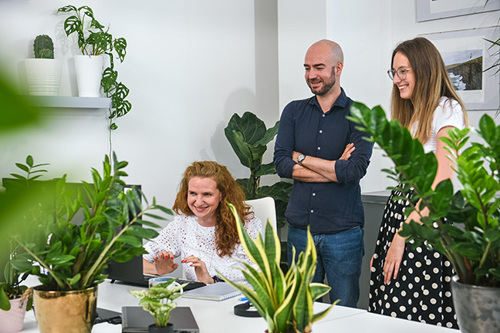 Projects
GEN-I has already demonstrated its innovativeness and ability to adapt to changes on the market and beyond, which have been key to the Company's rapid growth and market success. Our projects are awarded for innovation in various competitions. We do everything, from the development of applications to the use of artificial intelligence in the forecasting of electricity prices.
As a team, we plan and implement innovative projects that will enable the Company to adapt to changes on the market, while encouraging each other to think creatively and fostering an innovative mindset throughout the organization.
Profiles
Most important in an innovative development team are innovation and creativity, as is the desire to learn and develop something new. We also strive to make progress together by using agile approaches to development. The team is multidisciplinary, as this is one of the keys to success in this area.
We are looking for candidates with lots of new ideas, who are in step with the times and are already thinking about the future. Your knowlge and expertise may derive from different areas, as we promote innovations and solutions that will be part of the future. If you're not afraid to share new ideas and build the future, you're the perfect candidate for the development positions that have been advertised.
New challenges in the energy sector in the areas of sustainability, the green transformation and digitalization are opening many new opportunities and challenges that GEN-I's employees are working together to innovatively address and solve.
Do you dream about exciting projects in the area of sustainable solutions, the latest technologies and being part of a top-flight team?
Check out our vacant jobs and join our development and innovation department.